Scarlett Johansson Attributes her Good Looks to Makeup
Posted on May 7, 2010, 10:57 AM
Scarlett Johansson, pictured here, will be appearing on the cover of this month's issue of "V," and the actress looks as wonderful as she always has in the past. However, it may surprise her fans that she attributes her beauty to her team o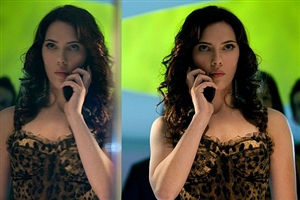 Scarlett Johansson thinks makeup makes her pretty
Working with these incredible hair and makeup teams, you go in looking like a schmoe, and you come out like a movie star," she said, according to the publication. "No one ever sees what goes in."
Currently, Johansson can be seen in "Iron Man 2," as the luscious but formidable character the Black Widow.
While we think that most girls would probably look great if they did have a team of beauty experts working for them, Scarlett is an undeniable beauty. We wish she would admit to her own good looks - does she not realize the media frenzy that accompanied a picture of her in the Black Widow catsuit?
Have some confidence girl - makeup can only do so much!