Rihanna Shows an Interesting Way of Complementing Bold Makeup
Posted on November 25, 2009, 12:34 PM
As most girls know, it's never a good idea to have dramatic makeup all over your face, so it's best to pick one feature to dramatize and let everything else be subtle.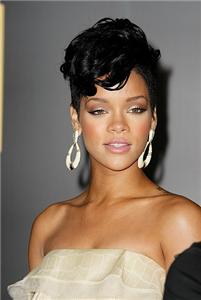 Rihanna tends to focus on one feature when applying makeup, shades or no shades
Singer Rihanna, pictured here, showed up to her album launch party following this rule with the help of some accessories. In her case, she walked the red carpet with bright red lips and a pair of sunglasses, negating her need for eye makeup.
While most girls don't have the star credentials of Rihanna to wear sunglasses to a party at night, it is good to follow in her idea of sticking to one feature to dramatize.
If you choose to try the daring look of bright red lips, keep your eye makeup simple by simply wearing a light shadow and a layer of mascara. The smoky eye is meant to be the focus, which is why it's a good idea to stay away from eyeliner and dark eye shadows when wearing a bold lip color.
It's also a good idea to stay away from too much blush. A hint of the power is okay to accent your cheekbones, but too much of it paired with red lips may have you looking like a certain circus character.