Miley Cyrus Looks Wild in Feathers and Dramatic Makeup
Posted on May 6, 2010, 1:24 PM
Teen sensation Miley Cyrus released her newest video, for the song "Can't Be Tamed," this week, and it's turning heads! The singer and actress donned a Gaga-esque costume adorned with wild, colorful feathers and dramatic makeup.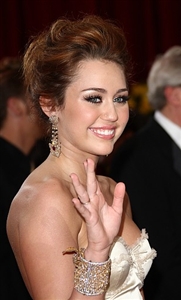 Miley Cyrus wore dramatic makeup in her new video.
Cyrus' makeup artist, Denika Bedrossian, dished all about the starlet's new look to "People" magazine. She told the source that the inspiration for the new video was wild, exotic birds breaking free from their cages.
"I used a lot of emerald green, turquoise and black," Bedrossian told the magazine while explaining Cyrus' eyeshadow. She called the look "gothic, edgy, yet feminine."
Bedrossian accentuated Cyrus' pouty lips with hot pink lipstick and created a messy
hairstyle
. She also applied feathered eyelashes to the singer's lids.
Cyrus had some say in the styling process too, according to the source. Bedrossian said it was a collaborative effort.
Is this the beginning of a new image for Miley? We'll have to wait to find out.