Brad Pitt's Hair Growth is Getting Out of Control!
Posted on March 25, 2010, 10:11 AM
Do you like his facial hair or does he need some men's shaving products sent his way?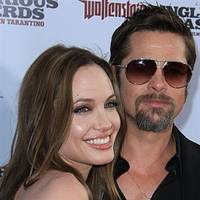 Brad Pitt is in dire need of men's shaving products!
Fans of Brad Pitt, pictured here, have been perplexed in recent months, as the notoriously handsome actor has been hiding his famous mug under a nest of salt-and-pepper facial hair. And, it turns out that his major
hair growth
is
not
for a new role. You'd think that caring for the brood of six children whom he shares with Angelina Jolie would be enough to keep Pitt stimulated, but apparently not.
According to the "New York Daily News", Pitt told reporters at the premier of the new movie "Kick-Ass" that the beard is a result of boredom.
If the hunky actor is in need of a hobby, couldn't he have taken up painting instead? Or perhaps read a few books to occupy his time? It seems unfair that he should obscure his face just because he has nothing better to do.
Maybe Angie could start leaving little hints around the house. Some well-placed
men's shaving products
in the bathroom or a few remarks about how his beard makes him look a little old might do the trick.