Mariah Carey and Nick Cannon Welcome Twins
Posted on April 30, 2011, 4:27 PM
The couple celebrated their third anniversary and welcomed their boy/girl twins to the world on Saturday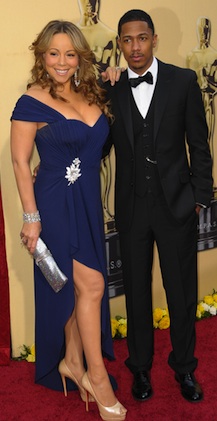 The Handsome Couple on the Red Carpet at the 2010 Academy Awards
They're finally here. After what has seemed like the longest (most public) pregnancy ever, Mariah Carey has given birth to her twins.
Reps for the songstress confirm that she delivered the babies at a Los Angeles area hospital at 9:07 am local time.
The baby girl came into the world first, weighing 5 lbs., 3 oz., and 18 inches long; and the boy was second, at 5 lbs. 6 oz., and 19 inches. Names for the twins have yet to be made public.
April 30 is a special day for Carey and Cannon who got married three years ago today. Cannon had an inkling that his third anniversary would also be his babies' birthday. "I'm not trying to be a psychic, but we renew our vows every year," he said as he guest hosted "The Talk" last Thursday, predicting that "It's probably going to be in the hospital this year. I can feel it."
If she's raring to get back into fighting shape, Mariah can feel free to consult us for
weight loss workouts for women
.