Karolina Kurkova Reveals How She Shed Pounds Post-Pregnancy
Posted on May 25, 2010, 6:27 PM
Many women are anxious about gaining weight during their pregnancy, and losing it when their child is born, but supermodel Karolina Kurkova never seemed to fret about her post-baby body.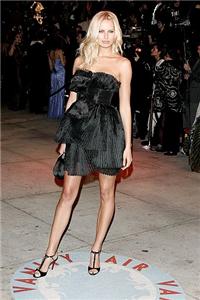 Karolina Kurkova looks lovely post-pregnancy
The lovely blond model, pictured here on the red carpet, gave birth to her son Tobin six months ago. She has since stepped out looking slim and sleek, and touting the benefits of motherhood.
She recently told "W" magazine that having her son has made her feel as if she is living for a higher purpose, and that she enjoys the challenge of balancing motherhood and work.
So, how did she get so fit so fast? She told the publication that exercise helped her return to her famous figure.
"A little ballet, a lot of dancing, funk cardio," she told the news source. "As a woman, where else can you go and listen to fast music and really dance? Especially after you have a baby, it's not like you have a lot of time to go dance! So [the gym is] a great place to just go and be, and feel good, feel sexy and sweat."
If we'll look that great after a few dance classes, sign us up!