Evangeline Lily is Extremely Pregnant
Posted on April 15, 2011, 2:45 PM
The former "Lost" star has been keeping a big secret -- one that was made very public on Thursday.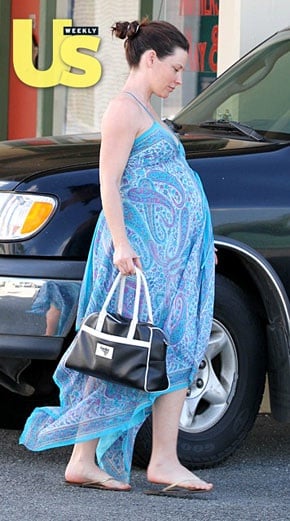 Photo: US Weekly
Looks like "Lost" star Evangeline Lilly has been keeping a super-low profile for, well, about eight months now.
The Canadian actress, who's been living in Hawaii since signing on to do the cult-fave show back in 2004, and has been out of the spotlight for nearly a year, was spotted out and about on Kailua by paparazzi and
US Weekly
got the exclusive photos of her looking more than a little bit pregnant.
So, who's the dad? The 31 year-old Fort Saskatchewan native has been dating Norman Kali for a while now, so all signs seem to point towards him as papa. Kali was a production assistant on the hit J.J. Abrams/Damon Lindelof show that ended its 6-season run almost a year ago - on May 23, 2010.
Lilly was married once before, to a Canadian hockey player called Murray Hone, and dated her "Lost" co-star Dominic Monaghan (Charlie) for three years. In addition to Lilly, Kali has also dated actress Lisa Edelstein who now stars on the FOX medical hit, "House."
Calls to Lilly's rep have gone unreturned. But, we'd hasten a guess that, yes, she is in fact, "with child."
If she needs any
pregnancy beauty tips
, we're happy to help.