Elizabeth Taylor Died Wednesday
Posted on March 23, 2011, 11:05 AM
The iconic actress and Hollywood beauty icon passed away this morning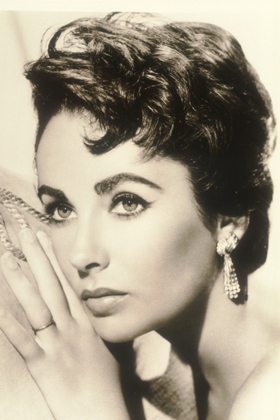 Elizabeth Taylor Died Wednesday
Actress Elizabeth Taylor died Wednesday at 79. The Hollywood icon passed of congestive heart failure early this morning at 1:30 AM -- just hours after the 53rd anniversary of the day she had first cheated death when a plane she was supposed to be on crashed.
Her then husband Mike Todd was not so lucky 53 years ago. Todd did make the plane and died in the crash, which infamously drove the bereaved actress into the arms of Todd's best friend, singer Eddie Fisher. Fisher was also married at that time, but he promptly divorced his wife to marry Taylor. Though after two years, the violet-eyed star promptly dumped Taylor for another. With eight marriages, her love life was just as plentiful and tumultuous as her career.
Unfortunately, in her later life Taylor was plagued with illnesses. She suffered a brain tumor and a leaky heart valve, undergoing at least 20 major operations. Last month, the actress was emitted in to L.A.'s Cedars-Sinai Medical Center where she has been hospitalized for the last six weeks until her death this morning.
After first appearing in Hollywood at age 9, she has amassed a career consisting of more than 50 films, winning two Academy Awards as best actress for "Butterfield 8" and "Who's Afraid of Virginia Woolf?" Her iconic roles, including "Cleopatra" and "Hamlet's" Kate, prompted many to consider Taylor as "one of the greatest cinematic actresses," as quoted by director Mike Nichols.
As one of the last classic Hollywood stars, the
natural beauty
is known for her stormy personal life as much as her onscreen career.
"My mother was an extraordinary woman who lived life to the fullest, with great passion, humor, and love," her son, Michael Wilding, said in a statement.
She's survived by her brother Howard, four children and nine grandchildren.
"We have just lost a Hollywood giant," said Elton John, a longtime friend of Taylor. "More importantly, we have lost an incredible human being."
-- Sharon J. Yi