Christina Applegate Has a Baby Girl
Posted on February 1, 2011, 10:52 AM
The "Samantha Who?" Actress and her fiance, Martyn LeNoble, have welcomed Sadie Grace to the world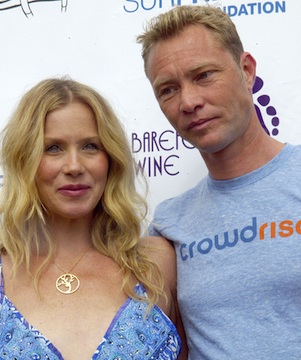 Christina Applegate Has a Baby Girl
First came
Miranda Kerr
, then
Penelope Cruz
, and now, Christina Applegate has joined the new mommy club.
The 39 year-old former Kelly Bundy welcomed a baby girl, Sadie Grace, to the world last Thursday, Jan. 27, in Los Angeles. And, according to a statement, both "mother and daughter are doing great."
Applegate, who was married to fellow actor Jonathan Schaech from 2001-2007, became engaged to Dutch musician Martyn LeNoble (Porno for Pyros) on Valentine's Day 2010. This is the first child for both.
When talking about her
baby and pregnancy
last summer, the breast cancer survivor was pragmatic, telling PEOPLE magazine""I'll probably be a little bit hippie and a little bit Type A. I'll take from what my mother did, which was way hippie and like, 'Do what you wanna do,' and bring some things that I know from watching my friends raise their kids. An amalgamation of sorts."