True Blood's Kristen Bauer Says She's "Always Hungry" in Order to Upkeep Her Amazing Body
Posted on August 10, 2010, 2:14 PM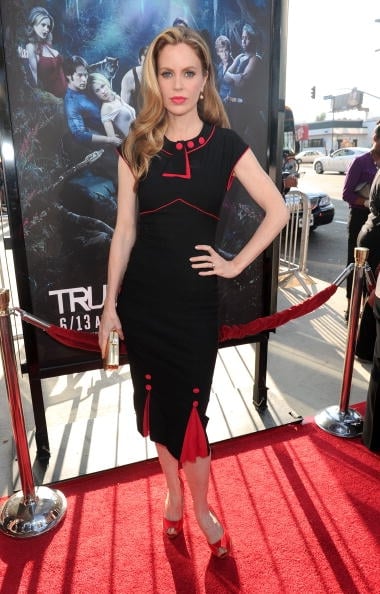 True Blood's Kristen Bauer Says She's "Always Hungry" in Order to Upkeep Her Amazing Body
With vampires being the current hottest craze thanks to the "Twilight Saga" and the resulting bandwagon TV shows including "True Blood" and "The Vampire Diaries," it's safe to say that Hollywood has taught me a lot about vampires (the best out of all the supernatural monsters). What I know about vampires: 1. They have fangs to bite necks, which have the gushiest blood flow; 2. They drink blood; 3. They're smoking hot with bodies sculpted to perfection.
Now while it's mesmerizing for us to watch these immortals frolic in our pretend TV world, the pressures to not only stay thin, but be hauntingly beautiful, must get to the real actors and actresses who play these roles.
"True Blood" actress Kristin Bauer, who plays Pam, the ass-kicking ex-prostitute, said in an interview to
Popeater
that she was "always hungry" due to her constant dieting.
When asked about pressures to stay thin, the actress said, "The other day I realized as long as I'm in this business, I'm going to be hungry. The camera really does add ten pounds. I'm trying to stay under the weight I want to look like on TV. It's a good incentive to stay slim and is probably adding years to my life."
The wardrobe for Pam is exceptionally revealing as earlier this season she was dressed in a complete latex dress fitted to her
body
like glue to a kindergartener.
Regarding her character's wardrobe choices, Bauer said, "I'm vegetarian, so I live on carbs, but it's always an effort. After any wardrobe fitting, I hit the gym three times more than the week before."
But apparently it's not just Bauer who's willingly foregoing food. In another interview with
Movieline
, the 36-year-old actress said that other than the men, the whole cast is dieting.
"All the women walk by craft services and keep going. I don't even know why we walk by, we're just torturing ourselves. Alex and Joe, they're trying to add size, but we're all working out like crazy and have diets."
Isn't it odd to hear of celebrities going hungry when those words rather invoke imagery of starving Ugandan orphans with protruding bellies? Constant dieting isn't something many endorse, but nevertheless as a society we glorify the impossible figures and slam on celebs that aren't thin enough -- only to later slam on them for being
too
skinny. If you're like me and starving yourself all the time doesn't sound appealing to you, make sure you get your facts straight with
diet and weight loss myths
.
Some celebrities who have lost weight for healthier lifestyles that we applaud are Drew Carey who recently lost 80 pounds,
Jennifer Hudson
and
Sara Rue
who lost 50.
By Sharon Yi