Natural Beauty Jessica Simpson to Discover 'The Price of Beauty'
Posted on March 2, 2010, 4:34 PM
Jessica Simpson has had her fair share of criticism from the media. When the blonde songstress ,who is undeniably a natural beauty, looked like she had gained weight at an appearance at a chili cook-off in Florida, tabloids jumped on her look and cla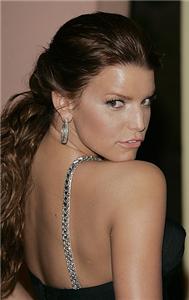 Jessica Simpson is a natural beauty who has defended her curvy figure to the press.
After the onslaught of negative attention, Simpson, pictured here at a previous event, appears to have slimmed down. However, the incident seems to have inspired her to investigate the American beauty culture on a new "VH1" reality series titled "The Price of Beauty," which she is co-producing with her father, Joe Simpson.
The show will follow Simpson as she and a friend embark on a trip around the globe to learn about how different cultures perceive beauty.
"I have always believed that beauty comes from within and confidence will always make a woman beautiful, but I know how much pressure some women put on themselves to look perfect," Simpson said of her new program.
What do you think, will you tune into the show to see what Simpson finds on her journeys?