Kim Kardashian Announces the Launch of Her Second Perfume
Posted on July 7, 2010, 6:09 PM
Kim Kardashian's new perfume is hopefully nothing like its predecessor.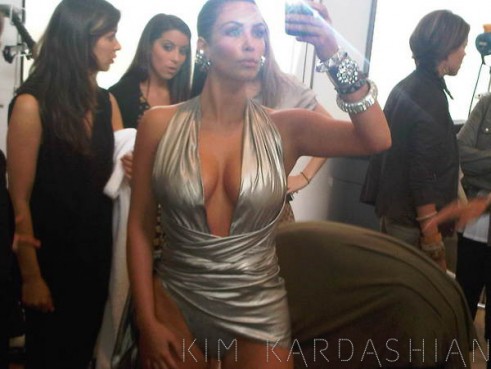 Photo Courtesy of: Kim Kardashian's Blog
Kim Kardashian, reality TV star and socialite, announced today that she is unveiling her second
perfume
to be launched in February of 2011. She wrote in her
blog:
"I am so excited to tell you guys that my second fragrance will launch in February of 2011!!!!! I wanted to let you guys know here first so you can all share the excitement with me :)" Her first self-named fragrance was launched last February of this year, which had scents of pale woods and white floral such as vanilla musk. The name or key notes of the new fragrance haven't been disclosed yet, but the photo shoot's theme was "glamorous" according to her next post: "I'm at the commercial shoot now and cannot wait to get all glammed up! Look at these amazing dresses I get to choose from!"
Dressed in a metallic silver halter dress (I use the word "dress" loosely as it is more of a leotard/bodysuit) with a plunging neckline and accessorized with glittering silver and diamond bangles, Kardashian seems void of arctic bird feathers and circus rings which were present in her first fragrance commercial shoot. What a relief.
She tweeted just a few moments ago, "This shoot is crazzzyyyyyy! Can't wait for the final images! I can't believe I am on my 2nd fragrance!!!"
Her first fragrance didn't do all that well considering it got a 7.7 reviewer rating on our site (
write a review if you've tried it too!
). Let's hope her second fragrance does better. We're all waiting expectantly for its grand debut. Until then, we'll dream of feathers, musk and curves -- curves that are forever sculpted in wax at Madame Tussauds where Kardashian's wax figurine was revealed earlier this week.
Kim is best known for her reality TV show, "Keeping Up with the Kardashians" and like any other deserving celebrity-to-be she had a sex tape scandal hit the Internet. She was spotted this past weekend celebrating the Fourth of July with football player, Miles Austin, whose romantic affiliation hasn't been confirmed though they were "holding hands".
By Sharon Yi