Kanye West Adds Some Permanent Bling to his Body with Diamond Teeth
Posted on October 20, 2010, 1:32 PM
Forget wearing bling, Kanye West shows us it's all about being the bling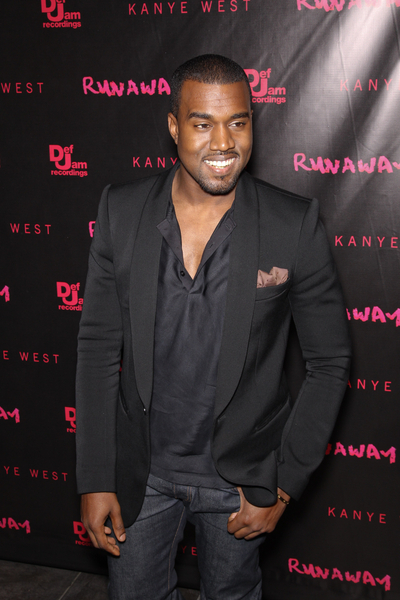 Kanye West Adds Some Permanent Bling to his Body with Diamond Teeth
Kanye West has always shown that he's capable of a mouthful (see his dissing of Taylor Swift at the VMAs) and now the stylish rapper has physical proof, with his diamond teeth.
Teeth, as in not a grill, but something permanently put into his
body
, more specifically, drilled into the bottom row of his front gums. On July 31, Kanye tweeted a picture of his iced choppers saying, "Teeth real diamonds ... what's the cause of the frontin'?"
Is Ye planning a remake of Vanilla Ice's "Ice Ice Baby" and, being the excessive performer that he is, just wanted to get into the role? Is he looking to glam up the denture business? Are diamonds actually a guy's best friend?
Speculations aside, reports surfaced after West's blingy bicuspids' appearance on Ellen DeGeneres' talk show this week that the rapper actually changed his teeth for health reasons. A severe car accident in 2002 left his teeth damaged and at times, rotting. The ordeal even left the star's jaw cracked in three places and his mouth wired shut for a bit. The "Ellen" TV appearance was his first since publicly apologizing for the MTV-Swift mishap on the Jay Leno show in 2009.
So why not just get regular choppers?
"I guess there's just certain things that rock stars are supposed to do," he told DeGeneres, adding that he "just thought the diamonds were cooler." The 33-year-old however, admitted that he requires a lot of dentist visits (ya think?). Colgate doesn't put out diamond cleaner, so how does one brush, er, 24 carats? Explains West, "I used to clean my diamonds with toothpaste when I was about 19, so this works out perfectly."
Perhaps the only that hasn't worked out so perfectly for West, is his upcoming "My Beautiful Dark Twisted Fantasy" album cover, which has already been banned in the states. The cover artwork features a painted replica of a nude woman with wings who is suggestively posed over another person/creature with brown skin/fur. West defended his artistic choice with a tweet, saying, "In the '70s, album covers had actual nudity … It's so funny that people forget that. I know that cover just blew y'all minds … I wish y'all could see how hard I'm smiling right now! "
From the shine and sparkle of those diamond teeth it will be hard for anyone to miss West's smile from now on. That paparazzi better adjust their flash from now, if they hope to capture Mr. West, sans camera glare.
-- Sarah McClure