Celine Dion Launches Her Thirteenth Fragrance, Pure Brilliance
Posted on September 8, 2010, 3:10 PM
The platinum recording artist spills the dirt on her fragrance habits and gives some insight into her latest perfume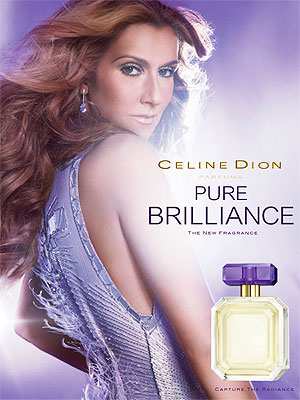 Celine Dion Launches Her Thirteenth Fragrance, Pure Brilliance
Celine Dion just released her thirteenth
fragrance
, Pure Brilliance, and the mom-to-be of twins discusses why she loves creating and wearing scents. "I remember buying my future husband a perfume that he was wearing at the time and I bought myself the same one to spray my pillow with his scent, and I was almost spraying my body with it," she tells PEOPLE. "It was like I wanted to carry his scent as well."
Even though Pure Brilliance is the French Canadian's thirteenth fragrance, it's only the eighth to launch in the United States. The inspiration source?
"Probably because I'm carrying babies and I've been on vacation and I'm breathing great beach air and I'm with my family, it's all about vacation and life," says the platinum recording artist singer.
The scent is a fruity floral, created with Coty, that features notes of pear, apple, green leaves, freesia and honeysuckle. "I'm enjoying my time off with my family, so I've made this a very delicate one about inner beauty," she tells InStyle.com. "Since I'm pregnant now, I don't want anything too loud or strong. I want something very, very light. Usually I wear perfume for nights out with my husband, an interview or a red-carpet appearance. But when I sing, I don't wear perfume."
As for fashion, Dion is a simple girl at heart. "Pregnant or not, one of my favorite things is a tunic. You can wear it with flat shoes, with heels if you want to, even barefoot at the beach. It's brilliant."
"I'd like to do everything! When I get thinking of jewelry, I think of the decor for my own boutique. Clothing too. And when I think of children, I want to do a special bakery just for the kids. When I start thinking and get into creative mode, I'm ready to go. It's a good thing I don't do it all!" the songstress tells InStyle.com about wanting to try out even more business ventures.
Pure Brilliance is available in stores now with starting prices at $28 for a 1oz. eau de toilette.
Will you try Celine Dion's newest fragrance, Pure Brilliance?