Alexander McQueen's Body Conscious Designs Were a Favorite of Celebs and Fashionistas
Posted on February 12, 2010, 9:03 AM
Though stars of the screen and fashion icons everywhere look forward to New York fashion week, there is a somber tone to this year's event after the death of legendary fashion designer, Alexander McQueen (born Lee McQueen). The designer's innovative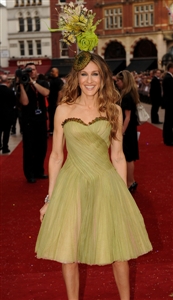 Sarah Jessica Parker wore an Alexander McQueen gown to the SATC movei premiere.
The designer's beautiful gowns offered a blank canvas on which celebrities could impose their own person style using bold makeup and out-there hairstyles (i.e. Lady Gaga).
"There has never been anyone like him," Parker said in a lengthy statement about the designer. "And there simply never will be. It has been a privilege for all of us to know you. You will be indescribably missed."
The star, pictured here, wore one of his frothy designs to the premiere of "Sex and the City: The Movie," and McQueen was one of the ladies' favorites during the long-running HBO series.
The British designer, who was 40-years-old, was found dead in his London home yesterday morning, and it is believed that he took his own life.