The Kardashians Launch Their First Beauty Product and Take Flack for Duplicate Life & Style Bikini Covers
Posted on May 27, 2010, 3:04 PM
Today marks the Sephora in-store launch of the first Kardashian-branded beauty product, Kardashian Glamour Tan. Kim, Khloe and Kourtney have proven themselves to be masters of product endorsement but this product is, like the ladies, 100% Kardashian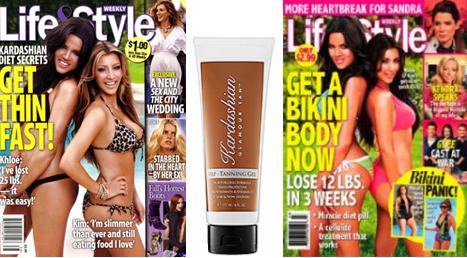 The Kardashians Launch Their First Beauty Product and Take Flack for Duplicate Life & Style Bikini Covers
Today marks the Sephora in-store launch of the first Kardashian-branded beauty product, Kardashian Glamour Tan. Kim, Khloe and Kourtney have proven themselves to be masters of product endorsement but this product is, like the ladies, 100% Kardashian.
"My sisters and I are all about getting the perfect tan without harming our skin," said Kim Kardashian. "We're always on the lookout for the best self-tanner so we thought we'd create the perfect formula and share it with everyone."
According to the news release, Kardashian Glamour Tan is an easily applied, clear, moisturizing self-tanning gel that the girls designed to produce the appearance of a golden sun-kissed tan within 24 hours of application. The non-streaking, non-staining formula is packed with protective antioxidants, and vitamins C, E & D to keep skin healthy and moisturized. And, what we like most about this self-tanning gel, Glamour Tan is the only self-tanner available containing Imudulin, a key ingredient responsible for stimulating vitamin D synthesis which can aid in lessening the look of lines and wrinkles.
We have to admit, we're kinda excited to try this out and see how it really works, especially with all the flack Kim and Khloe have been getting this week for their new Life & Style magazine cover. Both Kardashian sisters look positively radiant and amazing on this week's cover of Life & Style. Do you think they used Kardashian Glamour Tan to appear smooth and help disguise Kim's famous cellulite? In April, sister Kourtney Kardashian was featured on the cover of the same magazine in a bikini three weeks in a row and now, the weekly magazine made the mistake of putting the other two Kardashians in the exact same pose as their "big" weight lose cover back in September 2009. However, not only are the covers identical, but if you read the newer article, Kim is quoted as saying, "If I feel like a milk shake, I have one." Last September, she said, "Sometimes if I feel like a milk shake, I have one." This week, Khloe says, "Kim will always call me and be like, 'Let's go do boot camp!' and that motivates me." Last September, Khloe said, "Kim will always call me and be like, 'Okay, let's go do boot camp,' or 'Let's do this or that,' and that motivates me." Really, ladies? You can also be sure that the girls managed to mention Quick Trim, another one of the products that the Kardashian's endorse, several times in both articles.
Wanna look as thin and sexy as the Kardashians in your bikini this Memorial Day weekend? It's true – self-tanner is a great way to appear slimmer while laying out by the pool or beach. We like self-tanners that you can actually see while you're applying, that way you know when you've applied too much or too little and it also helps prevent streaking. If you go the spray tan route, another favorite, make sure you get sprayed one day in advance so that the color has time to set in.
Are you excited to try out Kardashian Glamour Tan? Who's to blame for the magazine cover blunder? Kim and Khloe Kardashian or Life & Style magazine editors?