Bruce Willis To Launch His First, Self-Titled, Fragrance
Posted on July 6, 2010, 5:17 PM
The action star (and Demi's ex) is launching his first eponymous fragrance.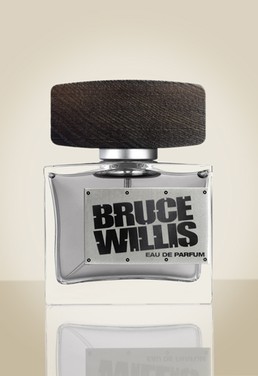 Bruce Willis To Launch His First, Self-Titled, Fragrance
Actor Bruce Willis is launching his first
fragrance collection this week. Named after himself, the Hollywood actor's signature collection includes an eau de parfum, hair and body wash, deodorant spray and after shave balm. According to Women's Wear Daily, the packaging "plays on the actor's macho image — a heavy, square bottle boasts an offset metal label with trompe l'oeil rivets and a solid cedar cap, sourced from sustainably harvested wood."

"The development of my new fragrance together with the very committed and passionate LR team was really a lot of fun," Willis tells WWD. "The products stand for individuality, uniqueness and sustainability. That's what convinced me and what unites me with LR [a German direct selling company]."

"I personally feel the new Bruce Willis fragrance is the manliest scent in the world," said Tilo Plöger, chief operating officer of LR Health & Beauty Systems. So would you like to know what Bruce Willis smells like? The fragrance is gray in color, and features notes of grapefruit, pepper and vetiver. Sounds yum to us.

Willis, age 55, has been quoted as having no plans to retire from his Hollywood career. "I have a 98-year-old aunt who is completely lucid, who can talk about when she was five-years-old so I'm hoping that's my genes too," the actor, who has three daughters with ex, Demi Moore, said earlier this year. "I don't plan on retiring so with any luck I can really make those old man roles my own!"

The Hollywood legend, who stars alongside Arnold Schwarzenegger, Sylvester Stallone and Mickey Rourke in the new movie "The Expendables," has assessed his career and is looking to find a new niche for himself. "I think the longer you stay working in this industry, everybody finds their own little niche and you can build your own little kingdom, your own little world," Willis said. "You get to do certain kind of films and occasionally something different. Some people never make the cut, some people fall off."

Would you buy Bruce Willis' fragrance for your man?