"True Blood" Star Anna Paquin's Wedding Hairstyle: A Blonde, Wavy Updo
Posted on August 24, 2010, 5:11 PM
The former child actress wowed guests with her beauty and fab hairstyle as she walked down the aisle with her co-star Stephen Moyer.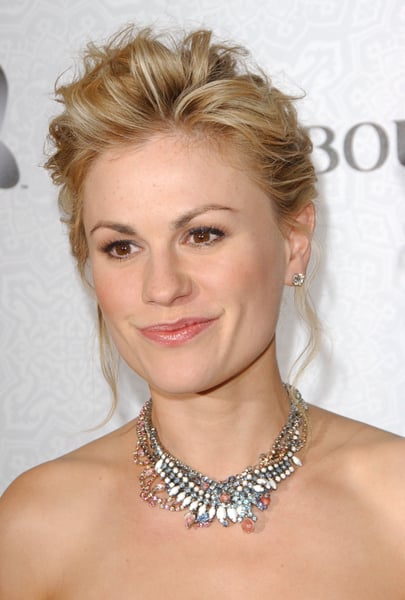 "True Blood" Star Anna Paquin's Wedding Hairstyle: A Blonde, Wavy Updo
Nothing is as eternal as a vampire's love. Unless it comes in the form of the on-screen, off-screen romance of HBO's "True Blood's" sexy co-stars Anna Paquin and Stephen Moyer. The couple, who began dating mere months after filming the first season in Alan Ball's vampire series (now in its third season), recently exchanged their till-death-do-us-apart vows on August 21 at a private Malibu residence.
In a nod to vintage-inspired glam, Paquin took a departure from her normally ponytailed Sookie Stackhouse, and wore her kiwi blonde locks up in an elegant wavy,
hairstyle
updo. She paired that with a Marilyn Monroe-esque halter-neck and three-quarter length wedding frock. The Oscar-winning actress also wore her 50-carat Neil Lane round-diamond necklace and matching diamond stud earrings. Her ring, a rustic diamond set in an antiquated platinum inset, was designed by jeweler Cathy Waterman.
British actor Moyer, who proposed to Paquin in Hawaii, wore a dark suit. The 28-year-old and 40-year-old couple, who share a home in Venice Beach, will also be presenting at the 62nd Annual Primetime Emmy Awards on August 29 with Alexander Skarsgard.
"I feel so lucky right now," Paquin said in the September issue of "Rolling Stone," where she and co-stars Moyer and Skarsgard bared all for a bloody jaw-dropping cover. "Life is pretty great."
Wedding guests included "True Blood's" Carrie Preston, as well as some of Paquin's co-stars from her upcoming movie, "The Romantics," in which she plays, fittingly, a bride.
Although not natural, Paquin's blonde is definitely a hairstyle upgrade she can pull off -- wedding or not. And it's most certainly a success unlike Kim Kardashian's blonde faux pas last year.
On bleaching her strands, Paquin says, "It's such a cliché but yes. I really didn't think that was going to be the case, but people stare at blonde girls. It's funny. It's bright and shiny and it catches the light. Like a magpie."
Being blonde is very high maintenance, she adds. Because her hair is naturally dark, even the tiniest amount of dark roots showing must be colored. When she's filming, the upkeep requires going to a colorist once every ten days for a couple hours, according to Paquin.
She has even admitted attracting more attentions, saying that since going blonde she's been treated differently, as if she's "a bit stupider" and that "men do stare at you more when you're blonde."
While we know the Oscar-winning actress certainly garners attention for her looks, as much as her smarts, we still think the magpie Paquin is all in good taste.
-- Sarah McClure