Nicole Richie and Joel Madden Are Married
Posted on December 13, 2010, 11:30 AM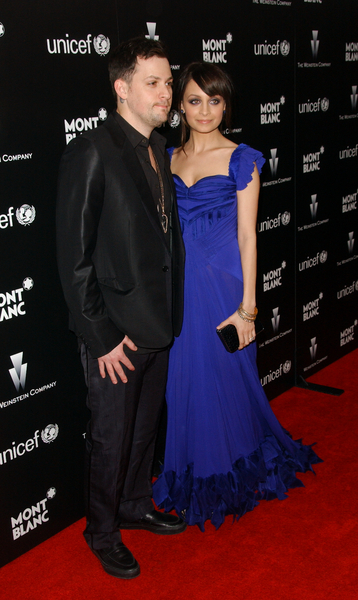 Nicole Richie and Joel Madden Are Married
After 4 years and two kids together, Nicole Richie and Joel Madden finally tied the knot Saturday during an intimate ceremony at Lionel Richie's Beverly Hills estate.
Wearing one of three Marchesa gowns (we still don't know which she chose for the vow portion of the ceremony), Richie said "I do" in front of 130 invited guests. And, surprise, guess who
wasn't
one of them? Her ex BFF (and co-star) Paris Hilton.
"Nicole is in a very different place in her life from when she was hanging out with Paris. She's the mother of two and now a wife, while Paris seems to be in exactly the same spot she was in five years ago," a friend of Richie's told PopEater.com when asked why Hilton wasn't on the guest list. "[She's] still partying in Vegas and getting into trouble with the law" the friend said referencing a trip to Sin City last summer that ended with Hilton getting arrested on cocaine possession.
Among the friends who
were
on the list were Gwen Stefani, Rachel Zoe, Ellen Pompeo, Samantha Ronson and Khloe Kardashian Odom.
While we're still waiting to hear what
hairstyle
Richie wore and what the dresses looked like, the big news now is about the trained elephant that was in attendance. PETA is up in arms. "We're sure she didn't know that Have Trunk Will Travel—the company that likely provided Tai the elephant, who was taken from the wild as a baby more than 40 years ago—trains its elephants with bullhooks and electric shock prods" the animal protection agency said in a letter to the new bride. "We're writing to her privately to respectfully ask her to keep exotic animals off her guest lists for future celebrations."
While Richie's camp has remained mum on the topic, we do know that the couple's daughter, Harlow, played flower girl, their son, Sparrow was a page boy, Madden's twin brother, Benji, was the best man and Papa Lionel serenaded the newlyweds with his classic chart-topper "You Are."
There is reportedly a bidding war going on between the tabloids for rights to the wedding images and full details.
Stay tuned… --Sarah McClure