Kate Gosselin Sports Wavy Hairstyle, Talks About "Dancing with the Stars"
Posted on March 1, 2010, 4:51 PM
Kate Gosselin, who is almost as famous for her evolving hairstyle as she is for her eight children and very-public divorce, was sporting a new, wavy hairstyle as she discussed her decision to appear on ABC's reality show.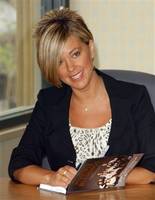 Kate Gosselin is constantly changing her hairstyle.
According to "Good Morning America," the reality star, pictured here with short locks, is planning to fit the competition into her busy schedule by practicing with her partner, professional dancer Tony Dovolani, while her kids are at school or sleeping.
However, she admits that the grueling rehearsal schedule is likely to be tough.
"Obviously, the kids come first," she told the news source. "It's going to be hard [but] I'm determined to do it."
We can't wait to see the controversial lady decked out in the flashy duds and elaborate
eye makeup
favored by contestants. And who knows how she'll choose to style her
hair extensions
for the competition?
The mother of eight has worked to maintain her enviable physique by running and eating a healthy diet, though she elected to have
plastic surgery
to firm up her post-baby
body
. We're sure that a stint on the physically demanding show will have the lovely lady looking better than ever!