Sienna Miller Changes Jude Law's Daughter's Hairstyle and His Ex is Not Pleased
Posted on June 17, 2010, 9:33 AM
Sienna Miller took Jude Law's daughter, Iris, to change her hairstyle and her mom, Sadie Frost, is pissed.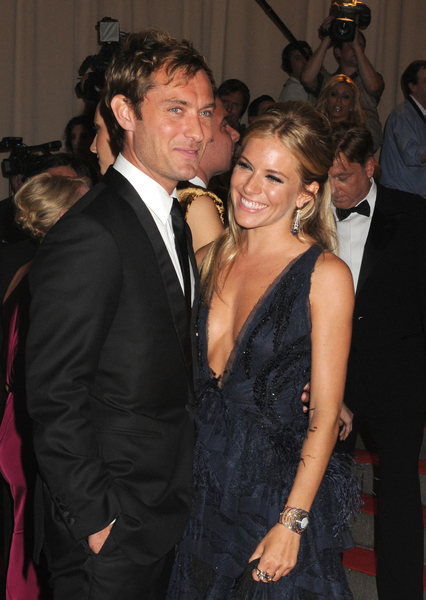 Sienna Miller and Jude Law at the "American Woman: Fashioning a National Identity" Costume Institute Gala at the Metropolitan Museum of Art
British actors Sienna Miller and Jude Law have always had drama in their relationship and now that they've reunited after ending their engagement in 2005, it seems that nothing much has changed - although, this time 'round, it's one of Law's four kids who's at the center of the tabloid maelstrom.
According to reports, Miller and Law were left to look after his three kids from his marriage to actress Sadie Frost while she went to the famed Isle of Wight rock festival for the weekend. That's when Miller decided that it was time for Iris, who's 9, to chop her long bob in to a short elfin pixie
hairstyle
.
To say that mum Frost was displeased, is an understatement.
Evidently, Frost took to Twitter to vent her frustrations with what she saw as an act of unbelievable nerve. "I think ya should get ya own child and then cut their hair," the 42-year old tweeted.
"Sadie had a great time at the festival but it was all forgotten when she saw Iris's hair," a friend told the UK paper "The Sun." "It's not that the style doesn't look nice - it does - but that it was done without her permission. I'm sure Sienna was just trying to be nice, but Sadie simply doesn't want Sienna playing mum to her kids."
For her part, Miller, who's long been a chameleon in the hair department herself, going from short to long then back again, (in this photo, taken a few weeks ago at a Costume Institute Gala in NYC, she's sporting super-long locks) has kept mum on the situation. And, sure, maybe she shouldn't be the one making hairstyle decisions for someone else's kid (although, perhaps she was inspired by
Hayden Panettiere's
or
Michelle Williams'
new pixie cuts) but, the question is, where was Law in all of this? He, after all, is Iris's dad and could've stepped in to advise against the makeover or, at the very least, suggested they loop Frost in to the decision making process.
Would YOU be mad if your ex's girlfriend took your daughter to get a haircut without consulting you first? Chime in below...