Pregnant Alanis Morissette Flaunts a Bikini in Mexico
Posted on November 2, 2010, 3:20 PM
The singer/actress is readying for her first child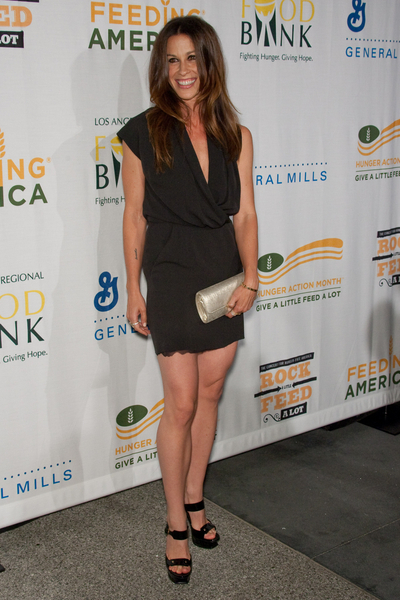 Pregnant Alanis Morissette Flaunts a Bikini in Mexico
Alanis Morissette may soon be applying some of the knowledge she gleaned while playing obstetrician, Dr. Audra Kitson, on the show "Weeds" to her real life situation. The 36 year-old mulit-hyphenate and her rapper hubby, Mario "Souleye" Treadway, are expecting their first child at the end of the year.
But being nearly 8 months pregnant hasn't slowed down the Canadian (who became a naturalized U.S. citizen in 2005) in the slightest. Over the Halloween weekend, she was seen flaunting her babylicious
body
in a barely there white bikini while vacationing in Los Cabos, Mexico. In addition to her voluptuous baby bump, Morissette, who (lucky girl) was once engaged to Scarlett Johansson's husband, Ryan Reynolds, boasted numerous visible tattoos on her back and front hip.
And, while she may not be shy when it comes to her baby bump, she's being uncharacteristically tight-lipped on the topic of the unborn baby's sex. That doesn't mean that the blogosphere and tabloids aren't trying to figure it out any way they can. TMZ onlookers reported seeing lots of the color blue and the word "boy" on balloons, which were carried in by the 25 or so guests at Morissette's recent baby shower in Santa Monica, Calif. For the party, the mother to be covered her lovely, lady lump with a gorgeous black dress with lace overlay. Likely in attendance was bff and fellow vegan Alicia Silverstone, with whom Morissette has been spending a lot of time window shopping.
On her healthier vegan regime, Morissette shares the attitude that she plans to stick around in her happy life. "I realized I want to live till I'm 120," she explained to OK Magazine. "There's a lifestyle that I am now happily creating that can, as best as is possible, prevent most forms of cancer and other diseases."
We're happy to hear Alanis has plans to stay put and at the very least hope she keeps making music. Her "Jagged Little Pill" album today is still the best-selling debut by a female in history (it sold over 30 million worldwide). As the queen of break up songs, something tells us the seven-time Grammy winner won't be needing a copy of Pete Yorn & Scarlett Johansson's single, "Break Up" to find her own inspiration 'cause that would be, well, you know, ironic.
What do you make of the rocker's mommy lump? And should she be tanning a pregnant belly?
-- Sarah McClure