Kim Cattrall Reveals New Haircut at "Sex and the City 2" Tokyo Premiere
Posted on June 2, 2010, 1:14 PM
The ladies of "Sex and the City" never disappoint when it comes to glamorous ensembles and makeup, but Kim Cattrall made a particularly daring move for a woman in the middle of promoting a blockbuster film -- she got a dramatic new haircut!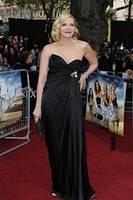 KimCattrall sported a new haircut at the Tokyo premiere of "Sex and the City 2"
Cattrall, pictured here before the cut, stepped out at the Tokyo event in a sleek angled bob that featured brow-length bangs. Her locks were still their signature honey-hue, and she donned a sparkling gold dress.
Cattrall looked wonderful from head to toe, and we love the new look. It is, however, a little strange for an actress to switch
hairstyles
in the midst of a press junket. Perhaps Cattrall is using the sexy look to channel her sultry alter-ego: Samantha Jones.
The rest of the ladies looked lovely as well. The film has received a slew of bad reviews, but if Carrie, Samantha, Charlotte and Miranda look fabulous, then it can't be all bad, right?
The film has taken in $31,002,000 at the box office thus far, and is in second place, behind "Shrek Forever After," according to "BoxOffice.com."