Carey Mulligan Shows Off Cute Haircut and Shia LaBeouf
Posted on May 19, 2010, 2:14 PM
Carey Mulligan became a darling of the fashion world after she appeared in the Oscar-nominated "An Education," and the beautiful starlet is still evolving her retro-chic look.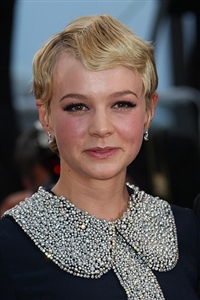 Carrie Mulligan has a new hairstyle.
She recently stepped out at the premiere of her latest film, "Wall Street: Money Never Sleeps," sporting a platinum-blonde pixie. We love the look, and think it's perfect for the young starlet.
The cut and color look great on the glowing actress. But, is a new 'do really enough to make a girl smile like that? Perhaps it's her costar, Shia LaBeouf, who has her grinning from ear to ear?
The pair met while working together on the film and have been dating ever since, though they've kept a low-profile.
LaBeouf, who's notoriously loose-lipped about his own movies, had nothing but good stuff to say about Mulligan.
"She's an unbelievably thought-provoking actress, the most talented actress I've ever met in my life, by leaps and bounds," he said in an interview with "GQ," according to the news source. "It works out. It's not like we're the premiere couple. We're not the red-carpet king and queen."