Anne Hathaway's New Faux-Haircut: Should She Cut It or Ditch the Wig?
Posted on August 31, 2010, 1:36 PM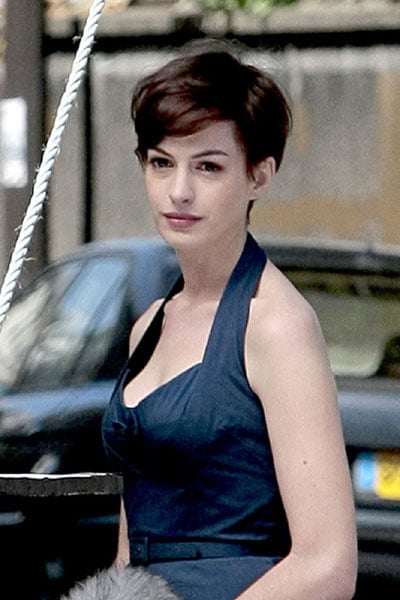 Photo Courtesy of: StarPulse.com
Come on board celebs! The train to pixie-land is just leaving and it looks like Anne Hathaway jumped on in the nick of time … or did she? The "Devil Wears Prada" star has done it again (cuting off her hair), but this time it looks like it is a temporary do as Hathaway's rep confirmed that the boycut is actually a wig! Hathaway has been known for changing her hairstyle for new roles as she cut her long flowing brunette tresses into a "lob" for the film "Rachel Getting Married" and went blonde as the White Queen in "Alice in Wonderland." Though it's a wig, I'm digging the new pixie look on her.
Hathaway was spotted with the wig on set for her new film "One Day" in Paris.
Many A-list celebs actually have chopped off their long hair including Emma Watson, Michelle Williams, Cate Blanchett and most recently Nicole Richie (who dyed it blonde in the process as well). The boycut looks fab on Hathaway (in my humble opinion) and I'd say she should stick with it. Her prominent features are better accentuated with the do while retaining her elegant femme look.
What do you think? Should she get a
haircut
for real and ditch the "wig" or do you want her long locks back?
"One Day" is based on a book titled "Emma" by David Nicholls about a girl (Hathaway) that meets a boy named Dexter whom she reunites with one day every year until the present day. Sounds like winner to me.
By Sharon Yi