Woman Claims Lady Gaga Stole Her Late Daughter's Soul & Hairstyles
Posted on September 9, 2010, 1:06 PM
Lady Gaga swept the music world by storm creating "little monster" fans everywhere but is her crazy stage persona actually a copycat?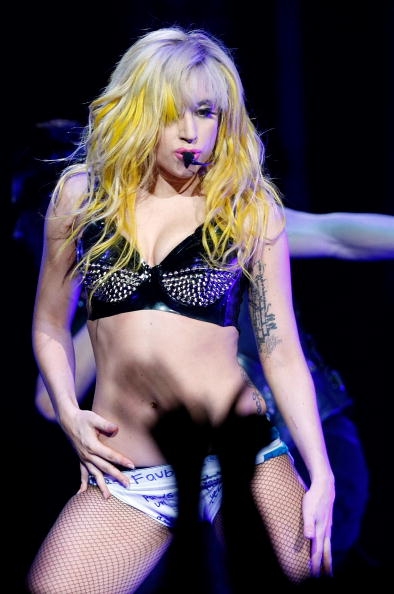 Lady Gaga swept the music world by storm creating "little monster" fans everywhere but is her crazy stage persona actually a copycat?
Lady Gaga has become a global icon by feeding the world what it wants: headlines. The world wants sensation and the outrageous pop star gives it to us. From wearing
raw meat as a bikini
on a magazine cover to the twisted plot lines in her music videos and her indulgent penchant for wearing extravagant wigs and strait jacket-esqe clothing; Gaga has become an overnight superstar creating a global fan base of "little monsters" everywhere. Just when you thought she couldn't top her latest antic, her name is emblazoned in yet another headliner that is truly out of this world -- supernatural, in fact.
A woman claims that Lady Gaga has stolen her late daughter's soul and is holding it captive as her muse. Yana Morgana wants the rights to release a dozen or so songs that her daughter, Lina, produced with Gaga -- just before she jumped off a ten-story building.
The mother says she doesn't want to sue; she just wants to free her daughter's soul.
"I'm doing this because I want to keep her spirit alive," Yana, 41, said to
The New York Post
. "Lady Gaga is holding Lina's soul, and I want her soul to be free."
The pair met through music producer Rob Fusari who introduced Gaga (then only known as Stefani Germanotta) as a potential songwriter for Lina's first album in early 2007. Gaga helped write a few of Lina's songs before they recorded a dozen or so songs together at Fusari's New Jersey studio. None of the songs were commercially released. Yana believes that it was during this collaboration when Lina's
hairstyles
, sexy lingerie clothing and dark tortured soul were imprinted on Gaga, just before she committed suicide.
"Every other word she [Gaga] says is from Lina. She talks about having a dark and tragic life, but she had everything she wanted in the world. She went to [the same] high school as Nicky Hilton, her parents were rich. But Lina did have a tough life, and she often talked about her tragic life," Yana said.
Within a year of collaborating with Germanotta, Lina jumped off the roof of a ten-story hotel in Staten Island. She died at the age of 19. Just a month after Lina's suicide, Germanotta emerged onto the music scene as Lady Gaga.
Whether Germanotta has truly taken Lina Morgana's soul hostage is a matter beyond my expertise, but the allegations that Gaga is actually a re-creation of this teenager's troubled life and stage presence definitely caught my attention. What caused Lina to jump just when her career was about to take off? How did Gaga get her musical career started so quickly when she was just this burgeoning singer's songwriter? Is this a desperate, seriously troubled woman seeking a slice of the Gaga empire or is some real black magic going on?
Gaga was quoted in "The Daily Mail" last July saying, "You have to live your art, as it's all about integrity. You won't ever catch me in sweatpants and a hoodie. Even in bed I wear my pearls and high heels. I'm always looking for more inspiration, new barriers to push."
Was Lina a barrier?
Lina's ex-boyfriend, Tyler Schwab said it felt like seeing a ghost when he saw Gaga's first music video.
"It was the same style, the same look, the same music, the same voice, the same jaw line -- the way they expressed themselves," Schwab said. "And I was like, 'Is that Lina?' It was so, so shocking. It was like looking at a ghost."
By Sharon J. Yi