Simple skincare tips to leave you fresh faced in the morning
Posted on November 18, 2009, 8:45 AM
For those who find themselves trying to hide the fact that they stayed out too late the night before, beauty magazine Allure is offering some helpful tips that will have you looking like you just awoke bright-eyed and bushy-tailed.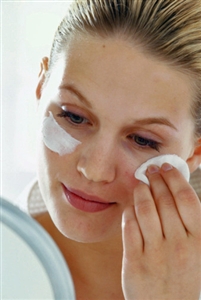 A few skincare tips can keep you looking fresh, no matter what time you got home
First, in order to remove the appearance of dark circles, a helpful tip is to apply a concealer that is slightly lighter than your normal skin tone. This does not mean it should be a contrasting color, but should add just a bit of a highlight.
To deflate a bloated face, a good at-home remedy would be to wrap a bag of frozen peas in a towel and use it as a cold compress for your face. Leave it on for about 10 to 15 minutes.
Finally, to tone down puffy eyes, all you may need are some tea bags. Just brew a cup of tea, and let the bags cool down a bit before laying them over your lids. Allure reports the tannins in tea may reduce inflammation, which ultimately will control the puffiness.
These are just some ideas that will give others the impression that you're an early bird, even if you know otherwise.