Sandra Bullock not thrilled about her blonde hairstyle
Posted on November 18, 2009, 11:22 AM
The "Blind Side" actress misses her own darker hair color.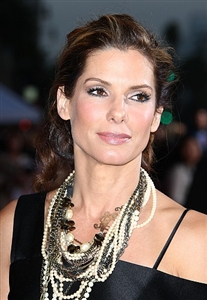 Ms. Bullock prefers her natural, dark hair to being blonde
It seems like blonde hair is making a comeback, with stars like Rihanna, Emma Roberts and Sandra Bullock choosing to wear a golden hued 'do. However, Ms. Bullock, pictured here with her more natural dark tresses, prefers her darker hairstyle to her current honey-blonde shade.
The actress dyed her hair blonde for her role as a Tennessee housewife in the new movie, "Blind Side." Unlike other stars, she isn't the biggest fan of her look and neither were her family, People Magazine reveals.
Her husband, Jesse James, prefers Bullock's brunette hairstyle. "Thank God an important person in my life didn't want me being blonde," she joked, explaining "He was like, 'I don't like the blonde on you," the magazine reveals.
Going from dark hair to blonde hair is a big decision to make and it's a great idea to talk to your stylist and family before making a significant change. If you still have your heart set on luxurious blonde hair, your stylist can help you pick the perfect shade to complement your skin tone and eye color.