Robert Pattinson's Wax Statue Sports His Signature Hairstyle
Posted on March 26, 2010, 8:34 AM
Robert Pattinson, pictured here, whose signature messy celebrity hairstyle and smoldering gaze have been making teenage girls (and some of us who are a little bit older) swoon since he appeared as Cedric Diggory...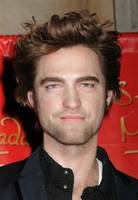 Robert Pattinson's wax statue has the star's signature hairstyle.
Now, fans don't have to play paparazzi to get a glimpse of the gorgeous guy, instead, they can head to Madame Toussads wax museum in London, where a wax likeness of the actor was recently unveiled.
The statue looks just like Pattinson, and fans can gaze at him for hours, run their fingers through his tousled tresses and even plant a kiss on his waxy lips.
Pattinson's wax doppelganger cost $245,000 and took four months to build, according to "TheMoneyTimes.com."
"R-Patz is one of the hottest celebs on the planet," said Tussauds spokeswoman, Liz Edwards."Judging by the reactions of the first [fans] to meet him here this morning, he is set to top our most-kissed list of celebrities very quickly."
Those of us across the pond who love R-Patz don't need to despair -- rumor has it that a replica of the figure (and the requisite messy
hairstyle
) will be set up in New York City.