How recessionistas get the perfect haircut
Posted on November 5, 2009, 7:57 PM
If you love Victoria Beckham's hairstyle but lack cash, here's some advice to help you get the look.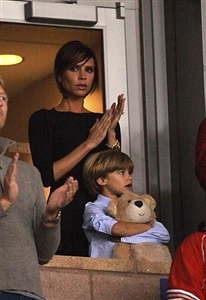 Victoria Beckham even looks immaculate at her hubby's soccer game
Earlier this week, trend-setter Victoria Beckham, pictured here, stepped out with a new wavy short hairstyle. Her longer hair seemed to indicate that she's growing out the super short hairstyle for which she is well known.
With today's unemployment rate over 10 percent, many fashion-conscious ladies want to know how to get great looks, like Victoria Beckham's hairstyle, for much less than at the more fancy salons. Luckily, with this advice, you won't have to sacrifice a great hairstyle when looking for a wallet-friendly price.
The Kansas City Star suggests looking to a beauty school for a cheap - or free - haircut. Students need practice in order to become certified hairdressers, and if you sit as a hair model for a cutting class, your cut will be supervised by trained stylists - so don't fear a less experienced stylist!
Make like a true superstar and ask for free samples of products, the newspaper advises. If your hair is already similar to Victoria Beckham's hairstyle, some top-range hair products can help you coax it into the same gentle waves - just don't be afraid to ask for free samples at the deparment store or salon.