Nicole Fox's long hairstyle makes the winning America's Next Top Model look
Posted on November 19, 2009, 10:08 PM
Season 13 winner, Nicole Fox and runner up, Laura Kirkpatrick both wore long, gorgeous hairstyles.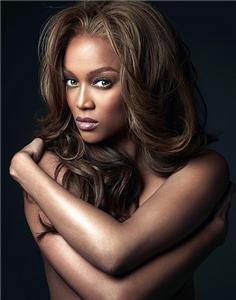 Glamorous ANTM host, Tyra Banks, recently announced the season 13 winner
Thursday, November 19 the final episode of America's Next Top Model season 13 aired. Nicole Fox from Louisville, Colorado, was crowned the winner by host Tyra Banks, pictured here. Both Fox and runner up, Laura Kirkpatrick were unique in that they both have very long hairstyles and are petite models, media sources reveal.
Season 13 might have been dedicated to models 5-feet-7-inches and under, but it also seems to have promoted long hairstyles. Fox's red hair was long and incredibly silky looking in her photographs. Her hairstyle may be the result of some hair extensions - Fox's original photograph on the America's Next Top Model website shows her with shorter hair - but the styling itself is full of volume and life.
Want the same for your long hairstyle? First of all, ask your stylist to trim your hair, but softly layer the ends. Hairfinder.com advises that even those with curly hair can benefit from a layered haircut because it adds a certain softness.
To blow out hair, use a smoothing product and then begin to dry the hair in sections using a flat brush. Finish off with a flat iron for added shine, Hairfinder advises.