Lindsay Lohan Dyes Her Dark Hairstyle Blonde In An Effort to Appear More Innocent
Posted on May 26, 2010, 1:11 PM
Sometimes when your life is out of control all you can do is take control of your celebrity hairstyle and that is exactly what Lindsay Lohan did.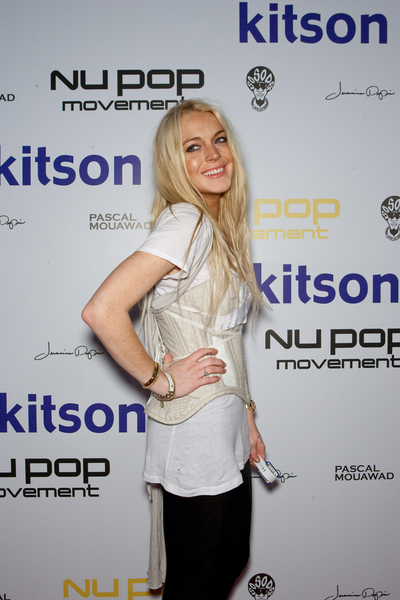 Lindsay Lohan Dyes Her Dark Hairstyle Blonde In An Effort to Appear More Innocent
On Tuesday May 25, literally a day after being court ordered to wear an alcohol-monitoring bracelet, Lindsay Lohan emerged from her hiding spot inside a Beverly Hills hotel to spend almost 10 hours at the Andy LeCompte Salon in West Hollywood, dying her dark black hair to a much lighter blonde color.
Some are saying that her transition back to a much more vibrant and youthful looking hair color is the 23-year-old actresses way of starting afresh. However, others are saying that it has more to do with her trying to appear younger and thus more innocent.
It might seem strange that Lindsay would spend over 10 hours in a salon dying her hair back blonde after she probably spent just as many hours to have it dyed dark. However, it seems like the starlet represents her mood with her hairstyle and blonde seems to mean that brighter days are ahead.
It seems that the darker hair Lindsay's hair gets, the worse she seems to be doing and that bad things are happening. While, on the other hand, the blonde hair and even the transitioning over to the blonde hairstyle seems to mean that things will be calming down and in a way getting better.
One can only hope that Lohan has seen the error of her ways and that just like most women is signifying that she is going to make a change in her life by starting with her hairstyle. Either that or, the dying of the hair and the changing of the hairstyles is just another great way to front (once again) to the outside world that she is going to change for the better this time. Either way, this change of hairstyle to a more innocent look is exactly what Lindsay Lohan needed if she plans to convince anybody that she isn't half as bad as people think she is.
Lindsay showed up to court on Monday morning with her dark hair pulled loosely back and this only helped to exaggerate the fact that she is tired and has the skin of somebody years older. Hopefully Lindsay leaves her hair blonde, quits pluming her lips full of filler and can actually become healthy inside and out.
Lindsay is only 23 years old and has already racked up two DUI's, been to rehab several times and honestly has not had any positive press in years. A change of hairstyle and more importantly lifestyle could do nothing but good and, according to a source in the salon Lindsay, "wants to make a fresh start."
Hopefully this change of hairstyle to a more innocent look and color will provide Lindsay with the motivation to change. After all, Lindsay Lohan must return to court on July 6th for a hearing to determine whether or not she violated the terms of her probation. As a reminder, all of this drama started because Lohan took off to Cannes, France and apparently didn't show up to her weekly court-mandated alcohol education program. Seems like the whole situation was pretty avoidable.