Kendra Wilkinson Explains How Body Care Is a Major Concern
Posted on June 25, 2010, 3:02 PM
Playboy's "Girls Next Door" star, Kendra Wilkinson, was recently quoted commenting on her newfound mom curves.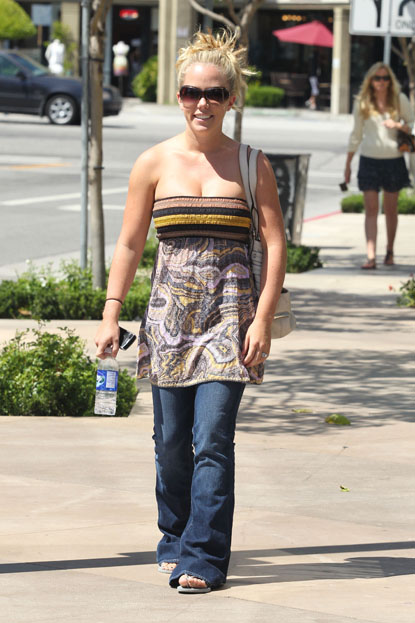 Kendra Wilkinson Explains How Body Care Is a Major Concern
Playboy "Girls Next Door" star, Kendra Wilkinson, was recently quoted commenting on her newfound mom curves. Wilkinson gave birth last December to her son, Hank Baskett IV and went from a super athletic and fit size two to having some "junk in her trunk," as she put it. "My curves shocked me big-time," stated the E! reality star. "It was a whole other woman I was looking at in the mirror." Wilkinson has been quoted as saying that she's enjoying her new body and new curves. The former Playboy Playmate also has big fitness goals that are targeted at getting her back down to her former size two. "About two months ago, I stopped making excuses. It's time to get out there and really bust my ass like I used to," she says of her now hour-long workouts at the gym. Wilkinson has also adapted healthy eating habits to her new diet plan. "I was so used to being fit and skinny, I never had to lose weight until now," Wilkinson explains. "I want my muscle back–I don't want anything jiggling. Cardio for me is number one. I need the cardio because I can tone my body, but I gotta burn the fat off!"
Body care is a common concern for most women, post-baby. Wilkinson claims that her new healthy eating habits, including salads and grilled chicken, really help in the whole process. The star also uses chewing gum to curb her food cravings and has also recently put her famous stripper pole back up in her house. "We didn't have my stripper pole in my house ever since I gave birth, now we're going to hang it up. I feel sexy again."

Sex tape, what sex tape? Wilkinson has also been in the news recently for other reasons besides her post-baby bod. As Hugh Hefner's former girlfriend, she's recently been outed in a sex tape with a former high school boyfriend named Justin. The sex tape is titled "Kendra Exposed."

Wilkinson and Philadelphia Eagles wide receiver, Hank Baskett, will celebrate their first wedding anniversary on July 27 and have been spotted out in about in Los Angeles, seemingly unfazed by Wilkinson's sex tape fiasco. Wilkinson and both Hank Basketts will be heading east very soon to Philadelphia for NFL training camp.