Katherine Heigl's New Short, Platinum Hairstyle
Posted on March 11, 2011, 12:08 PM
The color chameleon has gone very short and very blonde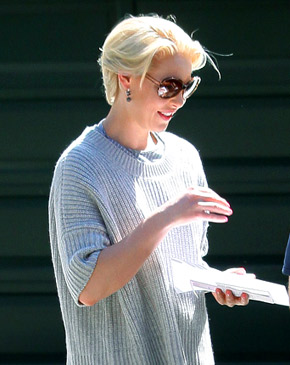 photo credit: Fame Pictures
Perhaps new mom Katherine Heigl has less time on her hands for things like styling her hair. The 32 year-old actress was spotted out and about in Los Angeles on Thursday sporting a short, platinum
hairstyle
which may be lower maintenance for her than her signature long hair.
Of course, the former "Grey's Anatomy" star is no stranger to changing up her color, last March she ditched her blonde hair for a dark brown and she's also flirted with varying shades of red in the past, though, as we've just seen, she seems to always come back to the blonde.
The short, blonde 'do is all the rage these days, just yesterday we saw first images of
Kate Winslet's new platinum pixie
as she joined the ranks of Hollywood stars like Emma Watson, Carey Mulligan and Michelle Williams, who've cut it all off.
For now, there's no word on whether a movie role prompted the new look for Heigl or whether it was just something she wanted. She's currently filming "New Year's Eve" a "sequel" to "Valentine's Day" with
(newly single) Jessica Biel
, Ashton Kutcher, Halle Berry and Zac Efron. And, she's staying busy with husband, Josh Kelley, and their adopted baby, 2 year-old Nancy Leigh.
What do you think of Heigl's new look?