Jessica Simpson and Ken Paves Have Parted Ways - What Will Happen to Her Hair?
Posted on October 15, 2010, 10:31 AM
The longtime BFFs have had a falling out. What happened?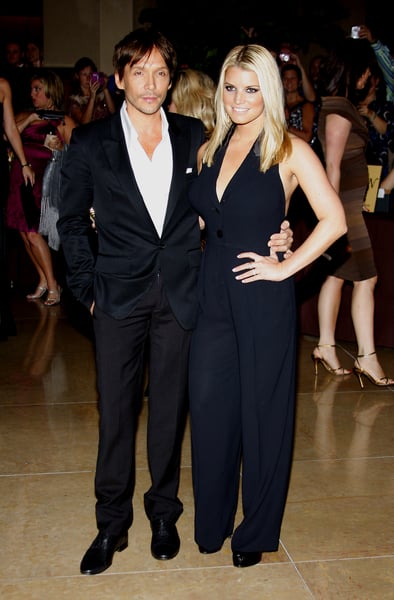 The Hair Pair in Happier Times
After being bffs for more than a decade, Jessica Simpson and her mane man, hairstylist to the stars, Ken Paves, have officially parted ways - he's reportedly, gulp, removed her from his client roster. But, apparently, Simpson has already found someone to help maintain that famous
"Jessica Simpson" hairstyle
(which, of course, Paves is credited for having honed in the first place).
The heir apparent seems to be a stylist named Ladybug. Rumors about a rift between Paves and Simpson were sparked last month when Simpson tweeted photos of her and "Ladybug" hanging in Texas. "My BFF and I in Houston after an amazing in store! She rocked my hair out! Feelin' sexy! Love u ladybug!"
E! News reported in September that a source close to the situation had said that the former besties had had a "major fight" and that Jess was "devastated." Paves, who is in the "HairUWear" extensions business with Simpson, didn't even attend her big denim debut at New York Fashion week, opting instead to tweet his encouragement. "Have an amazing show. Strut your stuff ladies!" he said.
While details on the cause of the rift remain vague, rumors have swirled that Simpson's new beau, ex NFL star Eric Johnson, is at the root. Paves, it seems, has been AWOL from Jess's life since May when the couple started seeing the newly separated sports stud (His divorce was finalized a few days ago) and, on Thursday when E! News asked Paves whether Simpson's still a client, he "struggled to put his words together" before saying no.
"Ken is sick of her cycle of dumping friends when she's with a guy," a source told "US" magazine. "She smothers guys and they dump her. Then she goes back to Ken."
Poor Ken. Maybe she'll have an a-ha moment and come to her senses. In the meantime though, he'll surely be keeping busy with his other A-list clients, including Jennifer Lopez who's going to need a lot of primping done once "American Idol 10" gets underway in January.