Gold 'N Hot Smart Heat hairdryer featured on The View
Posted on November 12, 2009, 7:45 PM
The ladies of The View discussed haircare tips and featured their favorite new hairdryer.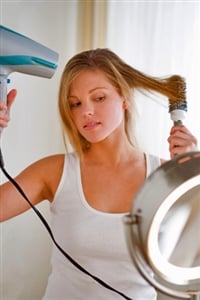 Blow drying again? Try this "smart" hairdryer
While Thanksgiving hasn't yet passed, some people are already starting to put their holiday wishlists together. In fact, the ladies who present The View took a brief look at some haircare products on the show that aired Thursday, November 12 and determined their favorite to be the Gold 'N Hot Smart Heat hairdryer.
According to beauty sales site, Sally Beauty, the Gold 'N Hot hairdryer uses advanced technology to ensure that hair does not dry out during the blow drying process. However, ladies must do a bit of research first and learn their own hair type - something that can easily be determined by a conversation with your stylist.
Users then select their hair type by pressing a button on the Gold 'N Hot's handle, and it then delivers the right amount of heat to a person's hair. The official Belson website even indicates that the device will use the right drying or styling method for synthetic hair extensions.
If you're looking for a hairdryer smart enough not to singe your ends, it might be a good idea to try this hairdryer with The View's seal of approval.