Blake Lively's a Redhead
Posted on April 27, 2011, 2:24 PM
The face of Chanel handbags and everyone's favorite snooty Upper East Side bad girl, has dyed her signature blonde hair.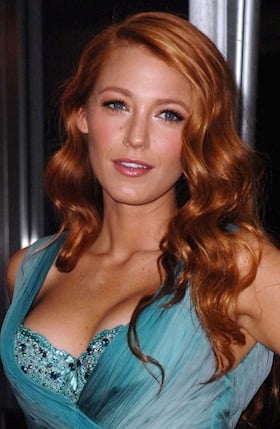 Blake Lively Paid a Little Visit to the Lukaro Salon in Beverly Hills and Look What She Left With
Blake Lively is used to getting attention. With those looks and that body, it's no wonder. And, last night at the
Time 100 Gala
in Manhattan, no one could take their eyes off the 23 year-old starlet as she revealed her new
red hairstyle
.
Looking stunning in a turquoise blue Zuhair Murad gown that showed off her new hue to brilliant effect, the "Gossip Girl" actress who's up next in this summer's "Green Lantern" blockbuster, told Access Hollywood what we were all looking at. "It's red," she said. "I did it for a film that I'm doing right now called, 'Hick.'" (Co-starring Alec Baldwin and Chloe Moretz is heading to theaters sometime next summer.)
This wasn't the first hair color change for the naturally blonde California girl, she'll play a brunette, Carol Ferris, in the "Lantern" and said told correspondent Billy Bush that "I loved having the brown hair. It was the first time I did anything different."
For now though, the new red hair look, courtesy of Rona O'Connor -- co-owner of the Lukaro Salon in Beverly Hills, Calif. is garnering a lot of attention. But, that's ok. Remember, she's used to it.