Kelly Osbourne Chooses an Unconventional Hair Color
Posted on March 4, 2010, 3:36 PM
Kelly Osbourne has undergone a radical transformation since her appearance on "ABC's" "Dancing with the Stars." The petite starlet has slimmed down, become somewhat of a fashion plate, and is now sporting a daring new hair color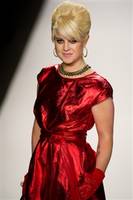 Kelly Osbourne has changed her hair color from blonde to lavender.
That's right, Miss Osbourne has elected to go gray.
Though you may think that she accidently stumbled into a salon aimed at the silver-haired set, it seems as if the young lady, actually chose this color, um, on purpose.
The natural brunette had been making the rounds at New York's Fashion Week with platinum locks and pictured here, but it appears that she felt the need to get back to her edgier roots.
"I know its lavender but having my hair this color makes me feel like me again," the star tweeted.
Osbourne also commented on the rumors that she elected for
plastic surgery
to create her svelte new physique, writing, "I would not waste money on plastic surgery people have already made up their minds as to what I look like and I would rather buy a new dress."
What do you think about Osbourne's new
hair color
? Was she better as a blonde or is a hip shade more her style?