Hilary Duff's New Ombre Hairstyle - The New Bride Rocks a Two-Toned Style
Posted on October 15, 2010, 10:51 AM
Hilary Duff adds book author, bride and brunette to her resume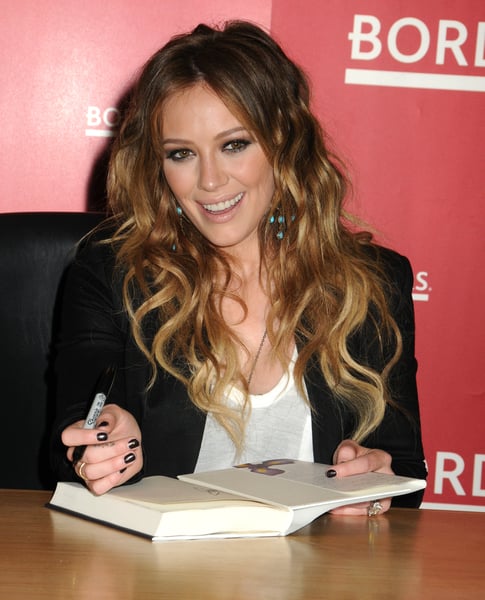 Hilary Duff's New Ombre Hairstyle - The New Bride Rocks a Two-Toned Style
When your summer highlights start to come undone, consider skipping the recolor -- as many celebs are doing by leaving in their outgrown colored. While promoting her first book, "Elixir," Hilary Duff has been seen embracing the ombre
hairstyle
-- the look is better understood as two-tone hair, when your main color grows out and leaves darker roots and lighter ends.
Other ombre recruits include Rachel Bilson, Jessica Biel and Drew Barrymore, who've all been spotted around town making the "too-broke-to-recolor" hairstyle look smoking hot again. Ombré has even been seen on the runways. In order words, women are now, ironically, paying big bucks to have their stylists give them outgrown roots – a look that was once avoided as much as the mullet.
What do you think of the trend? Do you think women should now go broke trying to look, er, broke and unable to afford to get their hair done? Or is ombre to go-to fall hairstyle?
On Duff, the 23-year-old was seen rocking her fall-ish ombre 'do with carmel-y wavy, curled ends, while signing copies of Elixir (she apparently went through a dozen sharpies) at Borders in New York City. Elixir, a romance novel for young adults, is about a young photojournalist, Clea Raymond, who sets off to solve a mystery about her photos and her missing father. "I love adventure. I relate to girl characters, love, finding yourself and breaking out of the mold that people put you in," Duff told AP, adding that she wanted to create a "unique" main character who was not based on herself, but admitted that aspects of her own life had filtered through in the writing. ""There's a little bit of me."
As of late, the former Disney teeny bopper star has taken on a lot of new adventures in her life, from her new book, and playing the role of Bonnie in the film, "The Story of Bonnie and Clyde," to tying the knot with professional hockey player Mike Comrie in August. It was "true love" when the pair first met, according to Duff.
And it looks like Duff is not at lost for shedding her former Lizzie McGuire-esque blonde locks, especially since Mrs. Mike Comrie has become one of Hollywood's hottest ombré brunettes.
-- Sarah McClure