Carrie Underwood Sports Several Hairstyles at the CMT Awards
Posted on June 10, 2010, 12:58 PM
Carrie Underwood is known by her signature blonde locks, but the starlet's hair color was more platinum than butter at the CMT Awards last night.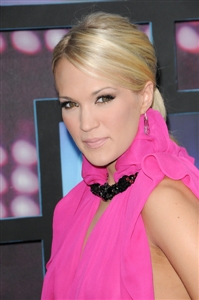 Carrie Underwood switched hairstyles at the CMT Awards.
Underwood walked the red carpet wearing a hot pink dress accented with black accessories. She also donned lots of dark
eye makeup
and had her light locks slicked back, away from her face.
However, when the country crooner appeared onstage she sported a tight, silvery dress and wore her hair down.
We liked both of her looks, which seemed appropriate for the glam but somewhat casual event.
Underwood cleaned up at the awards show, taking home the statuettes for Video of the Year and CMT Performance of the Year.
The awards are chosen by the fans. Underwood thanked her supporters after the show, saying "They were there before I had anything, an album, a record deal, a tour or anything like that. They built me from the ground up," according to the "Associated Press."
What did you think of Underwood's quick costume change? Did you like her hair better up or down?