Christina Aguilera, Amid Split from Hubby, Launches Fifth Fragrance
Posted on November 1, 2010, 11:59 AM
She may be in the middle of a divorce but, with a new movie about to open and a new women's perfume hitting shelves, she's staying busy.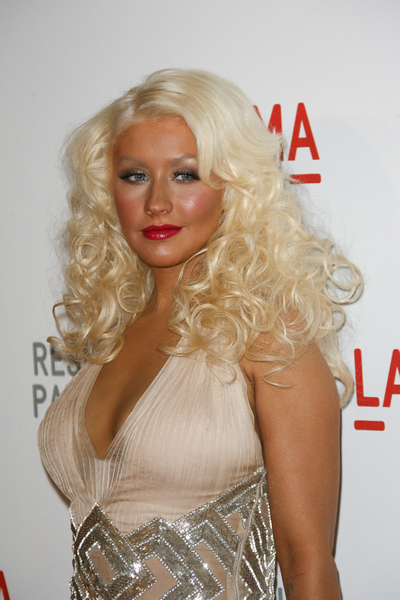 Christina Aguilera, Amid Split from Hubby, Launches Fifth Fragrance
At 29 years-old, Christina Aguilera is already pushing her fifth
fragrance
, Royal Desire – it follows the release of her last fragrance, At Night, a year ago. The launch is timed with the November 24 release of Aguilera's movie, "Burlesque," a cabaret-themed story that stars another singer/actress diva, Cher.
The fragrance offers an oriental, floral scent with notes of black currant, yuzu and marshmallow; middle notes of honeysuckle, lily, iris and rose; and bottom notes of musky notes, cedar and sandalwood (so what exactly does 'royal' smell like?)
"I wanted to create a fragrance for women to feel desirable, sexy and adorned – as we should be," says Aguilera in her behind-the-scenes video for the Royal Desire commercial—which we surmised based on her fuller figure nowadays, was filmed before Aguilera's breakup-induced weight gain from music executive Jordan Bratman. The two filed "irreconcilable differences" and have plans for joint legal and physical custody of their two-year-old son Max. Still, we wonder, is Bratman a fan of his soon-to-be-ex-wife's work?
Not a fan? UK's Mail Online, who slammed the video as "soft porn," dissing her ad as nothing but "showcasing her ample cleavage in a very low cut dress and writhing in a chair in ecstasy as she sprays the perfume across her chest." We think 'soft' in terms of her make-up choice, but porn-ish? Probably not. Maybe the British never caught Aguilera's fetish-y "Dirrty" and "Not Myself Tonight" videos.
In maybe just a slight contrast (har) to her leather skin-baring outfits and blood-red lipstick, Aguilera's look for Royal Desire is regal and includes a tamed Marilyn Monroe textured
hairstyle
. "To add to that romance I wanted to keep the colors a little bit softer so I could select this beautiful tone of rose on her mouth, it's a bit different than what we're used to seeing on Christina," says make-up artist Kristofer Buckle.
Stylist Simone Harouche also kept the ensemble PG. "For designing the dress, we wanted to stick with the idea of the actual bottle, so Christina wearing a nude dress with a brown bow represents the packaging of the fragrance." Christina apparently even wore a vintage tiara.
So all it took was some au de perfume for Xtina to turn her act sweet? Does her perfume ad push boundaries? Do you prefer Aguilera done up as a queen or drag queen?
-- Sarah McClure