Wrinkles Depress Me ... So I'm Fighting Back with Serious Skin Care

Posted 10/15/10 at 06:45AM by Total Beauty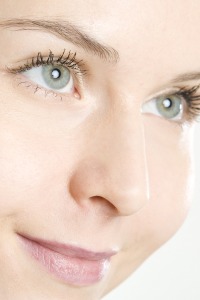 At 39, I'm definitely starting to notice a few
wrinkles
on my face -- especially on my forehead. I am scared to death of needles, so Botox is out of the question. (I know, it's tragic.) So needless to say I have to find less painful ways to combat my lines. That's where
Olay Pro-X Wrinkle Smoothing Cream, $47.99
comes in.When I started using this product two weeks ago, I instantly noticed my skin was much smoother. I have dry, flaky skin normally, and this silky lotion hydrated my face and gave my skin a glow. Yes,
glow
, something my skin hasn't known for about a decade.
I must admit though, when I first started using this I was a bit worried it would make me
break out
because my skin is on the sensitive side. Luckily, it didn't. Not a zit in sight.
I'm also allergic to most fragrances, so I was relieved that this cream didn't have a scent that would cause a reaction. Phew.
But now onto the part you all really care about and the question you're burning to have me answer ... did it actually smooth my wrinkles? Well, I have noticed that the lines on my face seem less noticeable -- they look a bit softer. Like I did a little real-life Photoshopping. I know it takes a product at least 28 days to see its full effect (so say most derms) and I'm only halfway through my trial, so the jury is still somewhat out. So far though, I'm impressed. I can't wait to see how my face looks 14 days from now -- just in time for Halloween parties. Hopefully, my skin will look as amazing as my Katy Perry costume does ...
So, how are you fighting wrinkles? Any secret weapons we should know about? Share your secrets by commenting below.
Then see what happened when I wore no makeup to work (wrinkles and all).
Find out here.
Or learn more anti-aging skin tips by checking out our
Skin Matrix
.

Our Expert Guides