The Three (Wacky) DIY Beauty Experiments I Just Tried

Posted 10/17/11 at 03:36PM by Audrey Fine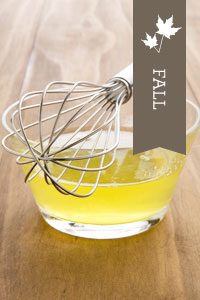 A few weeks ago I was at my local library looking for a book on conquistadors -- specifically, some inspiration for making a costume for my son's school project -- when my wandering eye fell upon a book called "The World's Best-Kept Beauty Secrets." Now, I'm not saying that at that moment the kid's outfit fell by the wayside, but rest assured that I delved head-first into that little black book the minute I'd put the finishing touches on his plumed war helmet.
In the book, model-turned-beauty-expert Diane Irons shares 227 pages' worth of advice, tips, and even recipes for "what really works in beauty, diet, and fashion."
I was particularly intrigued by three of her DIY beauty formulations/substitutions and decided to take them for a spin. Here's the lowdown:
The "face lift"
: To get toned skin before a big event or special social gathering, Irons suggests beating an egg white to a froth, applying it all over your face, and letting it dry for 10 minutes before "lightly rinsing it off."
The verdict
: I'm not sure how much tighter my skin
looks
after doing this but it sure does
feel
more toned. Of course, the effect is only temporary but I have to say that it seems to work better than any tightening cream I've tried. I may have to take some before and after photos to see whether it's worth the hassle, but I do like the sensation of taut skin.
Whitening "toothpaste"
: Irons suggests pounding a few slices of burnt toast into a powder and adding in a couple of drops of peppermint oil, saying that the charcoal in the burnt bread helps to whiten teeth.
The verdict
: While some may insist that ingredients like ash, mustard oil, and, yes, even charcoal, will whiten teeth, I'm a purist who prefers paste or gel from a tube over minty wet bread crumbs any day.
Skin brightening mask
: According to Irons, Pepto-Bismol cures more than upset stomachs -- it's the antidote to dull skin. Simply apply to your skin with a cotton ball, let it dry, then rinse with cool water.
The verdict
: I was amazed that this really worked for me. I have sensitive, rosacea-prone skin and this mask seemed to calm down
and
perk up my skin.
Curious about Pepto-Bismol's complexion-boosting prowess, I did a little Internet research and found that Dr. Oz, too, recommends the Pepto mask. Seems that the aspirin and bismuth combine to remove impurities from your pores and tighten your skin. Who knew?
Of the three "experiments," I liked two -- and I'll definitely keep using the Pepto-Bismol mask -- so, all in all, not bad for an accidental library find.
Do you have any favorite semi-strange product substitutions or DIY projects you'd like to share? I'm always game to try.

Our Expert Guides