The VIP (Very Impressive Product) Pick of the Week #9

Posted 03/25/11 at 01:42PM by Kristen Giordani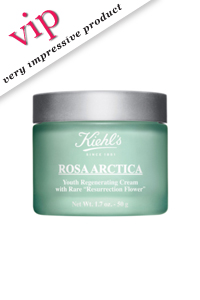 The Product
:
Kiehl's Rosa Arctica
The Price
: $60
The Promise
: "Delivers energy to skin allowing cellular activity to reawaken, all while simultaneously protecting skin from future damage." The result: "Reduced lines, wrinkles, improved firmness ... restoration of hydration."
The Real Deal
: I was seduced initially by this cream's rare ingredient "Resurrection Flower," which can survive up to 31 months of dehydration and continue to bloom once weather conditions improve. How's that for resiliency? I only hoped when I first used it during a trip to New York City in February that it would do the same for my chapped, parched skin. It
so
did. This seriously rich cream didn't irritate my sensitive skin in the least, it absorbed quickly and it gave my skin a much-needed glow by quenching its thirst. I've been using it ever since.
The Upshot
: While I'm not sure my combination skin will continue to crave this come summer, for now it's helping me get through these (hopefully) final days of winter weather without flakes or dehydrated-looking crows feet.
Oh, and for those of you who read labels, this cream is free of parabens and silicones while including vitamin E (antioxidant and moisturizer) and Squalane (moisturizing oil derived from olives). Not too bad for the price considering a tub of Creme De La Mer retails for a hefty $135 an ounce. This 1.7 ounce jar might just give the schmancy cream a run for its money.
Speaking of splurge-worthy products. Did you see the
beauty products Total Look host Rebekah says are worth dipping into your savings for
?
OK, now it's your turn to tell me what product YOU want to nominate for VIP status.

Our Expert Guides