The VIP (Very Impressive Product) Pick of the Week #41

Posted 02/10/12 at 08:48AM by Audrey Fine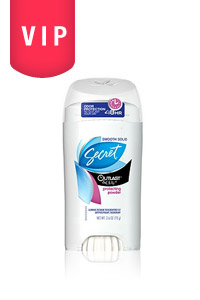 The Product
:
Secret Outlast Conditioning Antiperspirant & Deodorant Solid
The Price
: $5.49
The Company Spiel
: "Secret is the only female antiperspirant & deodorant brand (in the US) that has a breakthrough technology called Betacyclodextrin (BCD) which captures and locks away odor and releases a burst of fragrance for 48 hours."
The Real Deal
: Let's be honest, it's hard to get excited about writing (or reading) a deodorant review. What's there to say other than "Gee, it works" or "Don't waste your money?" The thing is though that with this new Secret Outlast, there really is something more to say: This stuff is awesome. Not only do you stay dry and sweet-smelling (there are four scents to choose from), you feel as fresh and odor-free at 8 p.m. as you did when you stepped out of the shower earlier that morning.
The Upshot
: With umpteen things on my daily to-do list, the last thing I want to worry about is whether or not I reek or have sweated through my top. With this new Secret Outlast antiperspirant/deodorant, I don't have to. What busy woman wouldn't want?
What's your go-to deodorant? Will you try Secret Outlast?

Our Expert Guides