The VIP (Very Impressive Product) Pick of the Week #31

Posted 10/14/11 at 06:09PM by Audrey Fine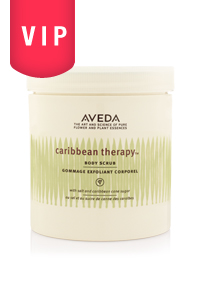 The Product
:
Aveda Caribbean Therapy Body Scrub
The Price
: $39.50
The Company Spiel
: "Our island-inspired scrub transforms skin and transports the senses: exfoliating with salt and Caribbean cane sugar; softening and conditioning skin with coconut, avocado, and passion fruit oils; uplifting with island aromas."
The Real Deal
: Not only does this scrub smell like the tropical vacation I can't afford to take, it works wonders on my rough, dry skin. The salt and sugar exfoliate really well and the oils moisturize
without
feeling overly oily or too slippery. It's a perfect combination -- which must be why this product earns an 8.4 rating from Total Beauty reviewers.
The Upshot
: This body scrub has definitely made a difference in my skin. It feels softer and smoother and, as a result, I'm a big fan. Do I wish it were less expensive? Of course. But, here's my rationalization: 1) It's way cheaper than a week on St. Barth's and 2) A little goes a long way. One jar lasts me about three months, so each use breaks down to only about 33 cents.
Hey, this is nothing compared to some of my other crazy (but totally worth it)
beauty product splurges
.

Our Expert Guides