The VIP (Very Impressive Product) Pick of the Week #24

Posted 07/22/11 at 02:58PM by Audrey Fine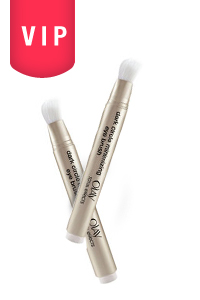 The Product
:
Olay Total Effects Line and Dark Circle Minimizing Brush
The Price
: $21.99
The Company Spiel
: "This daily under-eye moisturizer provides tinted coverage for younger-looking eyes. Instantly reduces the appearance of dark circles and fine lines."
The Real Deal
: Experts can talk about how dark circles are "hereditary" to their hearts' content, but that does
nothing
to help those of us who are saddled with them. That said, I've long been on the hunt for an easy-to-use, effective product that doesn't cost an arm and a leg to cover my circles (gene and/or lifestyle induced) and, with this Olay Total Effects Minimizing Brush, I feel I've done just that.
To be fair, my circles are not
terrible
, but they are annoying and, since I've begun using this product, they don't jump out at me as much when I look in the mirror. The main thing I like about this vs. other "cover ups" I've tried is that it's not too gunky -- it smoothes on very nicely and the built-in applicator brush is a boon for those who, like me, tend to be heavy handed in the makeup application department.
The Upshot
: While this isn't the cure-all, circle and line eraser that I'm pretty sure the majority of us are hoping will some day hit the market, I am very pleased with this pen. It gets the job done and is relatively affordable.
Always searching for more ways to banish/camouflage under eye puffiness and dark circles?
These tips can help
.

Our Expert Guides