The VIP (Very Impressive Product) Pick of the Week #16

Posted 05/20/11 at 11:05AM by Audrey Fine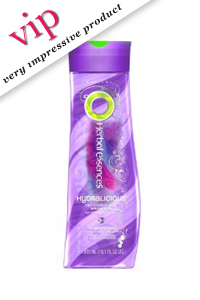 The Product
:
Herbal Essences Hydralicious Reconditioning Conditioner
The Price
: $6.99
The Promise
: "Our conditioner has a fusion of extracts of Shea and Hawaiian sea silk. Shea butter is often used to care for eczema, burns and rashes. If you think that's something, check out Hawaiian sea silk -- it's known for its skin-soothing properties."
The Real Deal
: As I've talked about before in my blogs (because it's such a time suck for me), I have a 9-year-old daughter who has
long
wavy, blonde hair that's
never
been cut -- only ever-so-slightly trimmed. That means that lucky you-know-who gets to contend with combing it out after a bath. I've spent crazy amounts of money on conditioners over the years. You name it, we've tried it. Then, one day a friend recommended this Herbal Essences conditioner and my life post-kiddie-shampoo has become significantly easier -- when it comes to detangling and smoothing hair, this (totally affordable) stuff rocks.
The Upshot
: The price is
so
right and it works like a charm. What's not to like (and buy again and again)? Oh, and it smells yummy too.
Do you have a favorite conditioner that you want to let us all know about? C'mon, we love to hear about tried and true faves. Oh, and if you're considering a haircut or color change this summer, be sure to check out
this expert advice
.

Our Expert Guides