Three Tips I Learned from Makeup Legend Pat McGrath

Posted 11/15/11 at 05:47AM by Rebekah George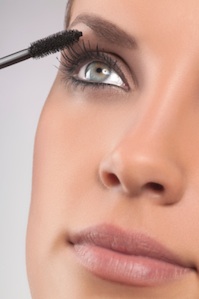 Pat McGrath -- the makeup artist behind many of the looks on the runway in New York, Paris, and Milan -- is a hero to those of us who eat, sleep, breathe, and live makeup.
What's mind-boggling is that this influential superstar has
zero
formal training. She was just a girl (like me) who spent her childhood rummaging through her mother's vanity table, but (unlike me) had a chance encounter with a fashion stylist who got her started on a career in makeup artistry. From there her innate talent took over and got her where she is today -- at the top of her game.
Last week, I got the chance to sit down with McGrath and chat about some of the looks that came straight from the spring 2012 runways. Here's a peek at my notes so you can learn how to work them into your own routine.
Big, bold lashes
: McGrath says that spring is going to be all about lashes -- big, bold ones. Her trick for getting the most oomph? Use two different shades of mascara. Apply brown mascara from the root to the middle of your lashes, then use a black one just on the tips. This method helps to frame your lashes and make your eyes look bigger.
Skin is in
: McGrath is a big advocate of caring for your skin with proper cleansing and exfoliating. She says that this allows you to wear less makeup and lets your natural beauty show through.
If you're compelled to wear a base, McGrath suggests using a foundation that contains antioxidants and vitamins to help your skin stay healthy and looking its best.
COVERGIRL NatureLuxe Silk Foundation
, $10.49, can help give you that fresh-skin look that McGrath created on runway shows like Roberto Cavalli.
A vitamin-rich foundation also helps bring out your skin's natural tone. Stick with a nude lip, soft pink blush, and brown shadow to complete the look. McGrath says you can also paint on a touch of a sparkly gold shadow in the center of lips to play up the natural effect.
Sculpted Cheeks
: Most models walking the runway were born with super sculpted cheeks but, this season, McGrath played them up even more by creating soft, ultra-defined cheeks that screamed femininity.
You can do this by applying
COVERGIRL & Olay Simply Ageless Sculpting Blush
, $8, to the upper apples of the cheeks. Just smile to find your cheek's "meatiest" part and use soft circular motions to apply the blush up and outwards towards your cheekbone.
Those are the tips I got from Pat McGrath (gosh I love my job). Do you have any you'd like to share? Here's an oldie-but-goodie ...
How to Fake Bright Eyes
.

Our Expert Guides