How a Pop of Color is Cheering Me Up

Posted 12/21/10 at 09:41AM by Audrey Fine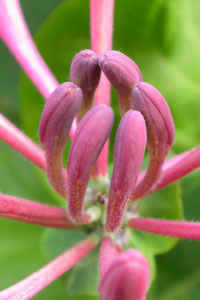 I live in Southern California. Beautiful, sunny Los Angeles. Only it hasn't been beautiful
or
sunny for the longest time. It's been rainy and cold and rainy and rainy. Did I mention that it hasn't stopped RAINING in days?
I'm very susceptible to that seasonal depression disorder (SADD), which is probably one of the reasons I live here in the first place -- I need to see the sun or I get bummed. Really bummed. But, what's a girl to do when Ark Building: 101 seems to be the only option? Why, try to find other ways to get happy (that don't involve drinking wine at 10 a.m.). For me, that's color. Little pops of color can do wonders to brighten your mood. Just ask Nate Berkus!
So, just imagine how happy I got when I red an article about how Pantone 18-2120 TCX has been pegged to be the color of the year. (Pantone is the "global authority on color" and each December they deem what's going to be hot for the coming year.)
The shade, a retro pink called "Honeysuckle" that some are referring to as "Mad Men" pink is "like the lipstick our mothers wore," said a guy named Tom Mirabile who's the head of global trends for some giant company.
And, it's going to be all the rage in makeup too. In fact, I already got
CND Colour Effects in Smoochie
, $9 -- their picture perfect homage to the shade and just gazing down at it on my fingers and toes brings a (much-needed) smile to my face.
Do colors make you happy too? What shades bring a smile to your face? And, do you know
which colors work best on you
?

Our Expert Guides